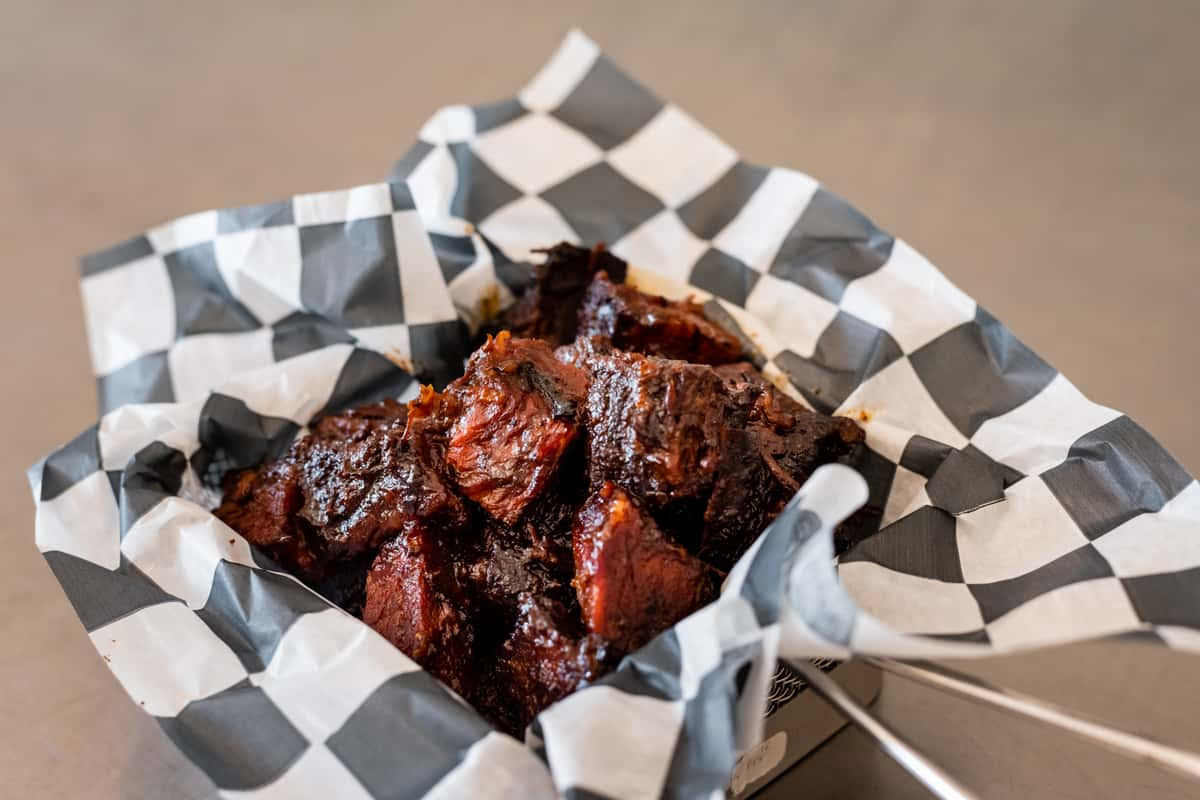 Donnie's Barbecue
Southern Style BBQ
Southern Style BBQ
Donnie's Barbecue is a veteran-owned business specializing in classic barbecue stapes and creative combinations.
About Donnie's Barbecue
What do you get when you combine choice cuts of meat, flavors from around the country, and six house-made sauces? Visit our restaurant located at Strawbridge Market Place in Virginia Beach to find out!
Special Events
For private events -- weddings, birthdays, business lunches, dinners, and more, Donnie's Barbecue is available. To make your special event memorable, we're here for you. We would love to be a part of your next event!
Virginia Beach
2129 General Booth Blvd. Unit 115
Virginia Beach, VA 23454

Hours
Tuesday - Saturday:
11:00 am - 7:00 pm
Loved it? Review it!
Leave a Review
"What a great find! Visiting from Arizona and NEEDED some good BBQ. Carolina pork sliders were excellent. Very tender. Sauce was exceptional. Great portion also. Menu has so many good choices, it's hard to decide what to order. Couple were VERY friendly. Place was very clean. I will be back. Highly recommended."
"The brisket, pulled pork, sausage, Kansas City ribs, and every single side is exceptional. Well cooked , perfectly seasoned and always served with the right sauce. We try to have Donnie's at least once a week. I'm a BBQ fanatic and cook with my own Big Green Egg and still come here fir the flavor, value and service."
"Fantastic! The BBQ was amazing and the rest of the bowl just melted in your mouth! Can't wait to try the "Meat Candy"!"
"Just had the Show Stopper Mac for lunch and man was it good. Smoked hot sausage, shredded white cheddar, pickled jalapenos and crispy onions. I tried a sample of the Meat Candy, their version of burnt ends, holy crap it was so good I had to get an order to go. If you're near The Strawbridge Marketplace, I recommend you check this place out."
"We chose the family feast which fed my family of 4 (2 adults, 11 y/o and 9 y/o) with some to spare for a lite lunch the next day. Everything was pretty good. My son said it was the best corn bread he's ever had as it was not super grainy and it was sweet. I personally loved the pulled pork, it seemed there was a hint of vinegar. My daughter loved the candied end. The brisket was thick cut but a little dry and the sausage was too spicy for us. The homemade bbq sauces were spot on as well. Thanks."
"Awesome. Best bbq in Virginia Beach no question."
"What a great find! Visiting from Arizona and NEEDED some good BBQ. Carolina pork sliders were excellent. Very tender. Sauce was exceptional. Great portion also. Menu has so many good choices, it's hard to decide what to order. Couple were VERY friendly. Place was very clean. I will be back. Highly recommended."
"The brisket, pulled pork, sausage, Kansas City ribs, and every single side is exceptional. Well cooked , perfectly seasoned and always served with the right sauce. We try to have Donnie's at least once a week. I'm a BBQ fanatic and cook with my own Big Green Egg and still come here fir the flavor, value and service."
"Fantastic! The BBQ was amazing and the rest of the bowl just melted in your mouth! Can't wait to try the "Meat Candy"!"
"Just had the Show Stopper Mac for lunch and man was it good. Smoked hot sausage, shredded white cheddar, pickled jalapenos and crispy onions. I tried a sample of the Meat Candy, their version of burnt ends, holy crap it was so good I had to get an order to go. If you're near The Strawbridge Marketplace, I recommend you check this place out."
"We chose the family feast which fed my family of 4 (2 adults, 11 y/o and 9 y/o) with some to spare for a lite lunch the next day. Everything was pretty good. My son said it was the best corn bread he's ever had as it was not super grainy and it was sweet. I personally loved the pulled pork, it seemed there was a hint of vinegar. My daughter loved the candied end. The brisket was thick cut but a little dry and the sausage was too spicy for us. The homemade bbq sauces were spot on as well. Thanks."
"Awesome. Best bbq in Virginia Beach no question."
"What a great find! Visiting from Arizona and NEEDED some good BBQ. Carolina pork sliders were excellent. Very tender. Sauce was exceptional. Great portion also. Menu has so many good choices, it's hard to decide what to order. Couple were VERY friendly. Place was very clean. I will be back. Highly recommended."